Clinical Programs
The Liver Transplant Program functions within the Multi-Organ Transplant (MOT) Program of the University Health Network and the Toronto General Hospital (UHN and TGH) and the Pediatric Academic Multi-Organ Transplant Program (PAMOT) of the Hospital for Sick Children (HSC). The Staff are:
6 Hepatologists: Drs. Bhat, Lilly, Tsien, Selzner, Patel, Jaeckl
8 Surgeons: Drs. Cattral, Ghanekar, McGilvary, Reichman, Sayed, Sapisochin, Selzner, Shwaartz
4-6 Transplant Hepatology Fellows
6 Abdominal Organ Transplant Fellows
5 Nurse Practitioners
Junior Resident in General Surgery
The adult program serves approximately 75% of the province of Ontario (13.5M), and most patients from the province of Manitoba, and the pediatric program serves all of Ontario, Manitoba, and ~½ of the Maritimes.
Liver Transplant Volumes: 1985 – 2021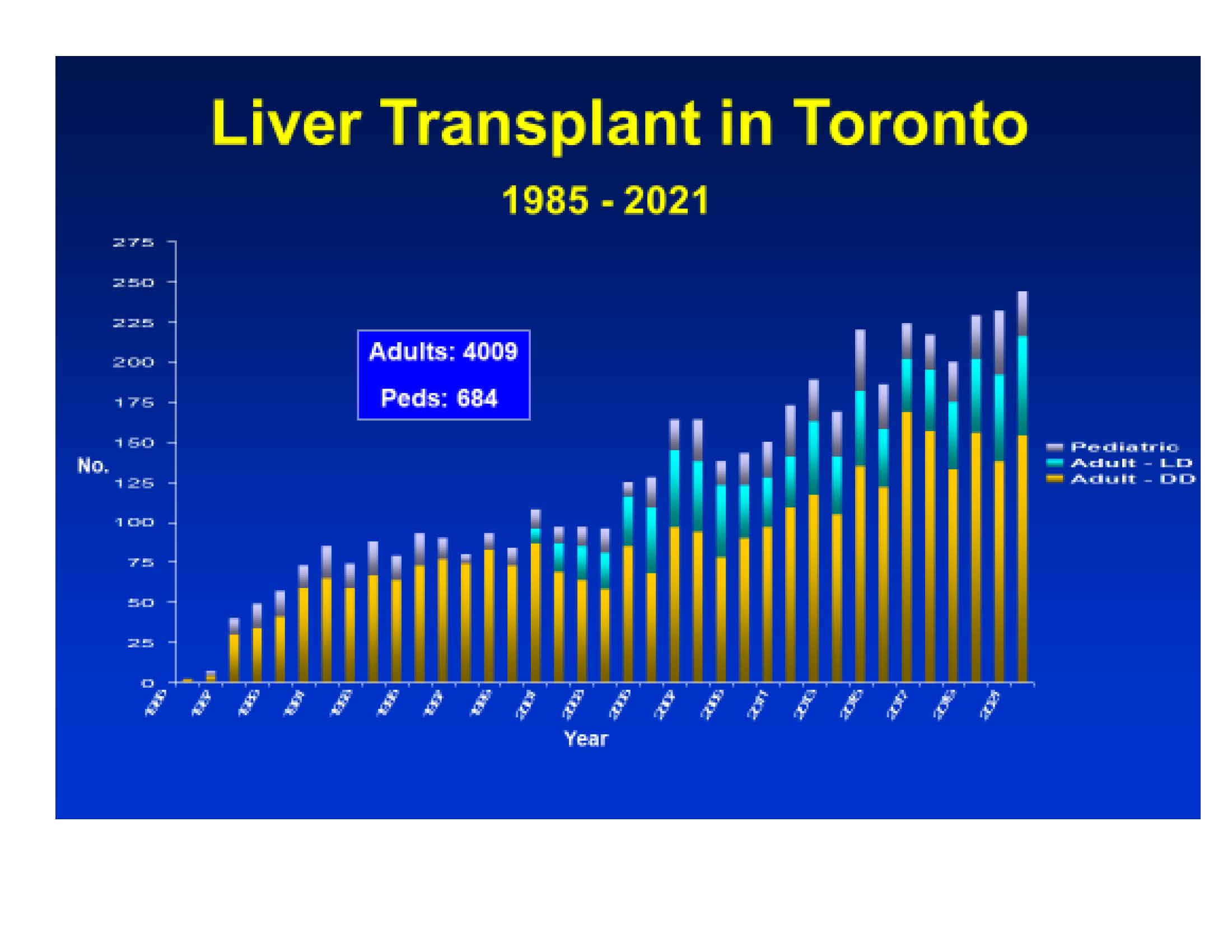 Adult Liver Transplant Service
The adult liver transplant in-patient service is comprised of 5 Nurse Practitioners, one Physician Assistant, the Transplant Hepatologist and Surgeons, the Transplant Hepatology and Surgical Fellows, a PGY1 Resident in General Surgery, and an inpatient service to 30-45 pts. Staff and Fellows are on service for one week at a time; Staff rotates on Friday and Fellows rotate on Mondays. Joint rounds are held at 7am and 3pm daily . The service has 35 – 45 patients including listed, pre-op liver patients, postoperative recipients on the admission of their transplant and late post-transplant patients. Patients are managed with the Intensivists in the closed MedSurg ICU, and by the Transplant team on the Transplant intermediate care ward, and on the Multi-Organ Transplant Unit. The Hepatology & Surgical Fellows take second call.
Living Donor Liver
The Toronto living donor liver transplant program is the largest in North America with approximately 65 adult and 20 pediatric LDLTs per year, almost 1200 LDLTs to-date.  The majority of the adults receive right lobe grafts, and children receive left lobe grafts. Over 200 potential donors are assessed each year and the Fellows perform all the volumetric analyses using the Myriam Software on dedicated computers.
Pediatric Liver Transplant
Each year, 30 pediatric transplants are performed making Toronto one of the largest pediatric liver transplant programs in North America.  Recipient procedures are performed at the Hospital for Sick Children. Approximately ½ of the pediatric transplants are from living donors. Approximately ¼ are deceased donor split liver transplants.  The pediatric patients are treated and followed in the Hospital for Sick Children.
Combined Organ Transplantation
Liver & Kidney
Liver & Heart
Liver & Lung
Liver & Pancreas
Liver-Small Intestine